About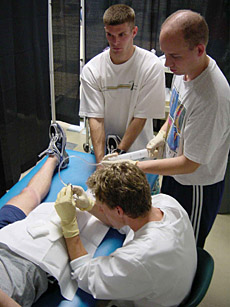 The Office of Student Research (OSR) was established in 2005 to expand the opportunities for undergraduate and graduate students to engage in research and mentored scholarship at Appalachian State University.
Students who understand how discoveries are made in their chosen fields are well-prepared to address the unsolved problems of the future. The OSR has a variety of resources, including financial support, to help research become a distinctive feature of the undergraduate and graduate experience at Appalachian.
For questions regarding the Office of Student Research, please use the Contacts List.
Our Mission
The Office of Student Research at Appalachian State University supports and promotes learning through mentored research experiences with Appalachian State faculty and other national and international scholars and professionals. We believe that these special collaborative relationships are among the most rewarding experiences for both faculty members and students.
Founding Advisory Board Members
The Office of Student Research would like to thank the founding members of the OSR Advisory Board for their willingness to invest their valuable time by serving in this capacity.
Dr. George Barthalmus, North Carolina State University
Dr. Nicole Bennett, Department of Chemistry
Ms. Shari Galiardi, Service Learning
Mr. David Huntley, Watauga Global Communities
Dr. Bob Johnson, Cratis D. Williams Graduate School
Dr. Lisa McAnulty, Department of Family & Consumer Sciences
Dr. Jeff McBride, Department of Health, Leisure, and Exercise Science
Dr. Ozzie Ostwalt, Department of Philosophy & Religion
Mr. Jay Sutton, Department of Athletics
Dr. Rahman Tashakkori, Department of Computer Science
Ms. Cindy Wallace, Division of Student Development
Dr. Mark Zrull, Department of Psychology
Current Advisory Board Members
Dr. Francois Amet, Department of Physics and Astronomy
Dr. Billy Armstrong, Geological and Environmental Sciences
Dr. Andrew Bellemer, Department of Biology
Dr. Erin Bouldin, Department of Public Health and Exercise Science
Dr. Mike Hambourger, Department of Chemistry and Fermentation Sciences
Dr. Scott Marshall, Department of Geological and Environmental Sciences
Dr. Randall Reed, Department of Philosophy and Religion
Dr. Mark Zrull, Department of Psychology
Dr. Kevin Zwetsloot, Department of Public Health and Exercise Science