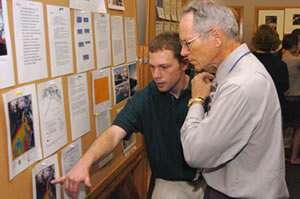 The 20th Annual Celebration of Student Research and Creative Endeavors will be held on Thursday, April 27th, 2017 on the 4th floor of the new Plemmons Student Union addition.
The Celebration showcases meaningful research in all disciplines by undergraduates and graduate students at Appalachian. Last year, 172 students representing over 20 departments presented their results in either a performance, platform talk, or poster.
To Apply
Submit the Celebration of Student Research and Creative Endeavors Abstract Submission Form. ABSTRACT SUBMISSION IS CLOSED. The 2017 deadline for abstract submission was Wednesday, March 22, 2017 at 5:00 p.m. Due to extreme scheduling constraints, students can only submit one abstract per year and we CANNOT accept any late submissions.
NOTE: Please make sure to diligently proof your entries on this form for grammatical errors, correct spelling of names, title, and academic departments for students and faculty. All data related to the Celebration of Student Research and Creative Endeavors is compiled electronically, directly from your abstract submission.
Exhibiting Your Work
For platform talks or performances
You will have 15 minutes for talks and 5 minutes for questions. You will have at your disposal an IBM compatible computer for PowerPoint Presentations, and an overhead projector. If you have additional needs, please email us at osr@appstate.edu.
For poster presentations
Corkboards and pushpins will be provided for your use. If possible, please limit your poster display to 4 ft (wide) X 4 ft (high). If you will need more space, please email us at osr@appstate.edu to be certain that we can accommodate your request.
Student Research Poster Competition
The top three posters in the undergraduate and graduate division will receive awards. To be eligible you must be available and willing to make a brief 3-5 minute presentation of your poster to the review committee on the morning of the Research Day Celebration. The top 10 posters in each division will be asked to make presentations.
Some Good Advice
Advice about writing an abstract or description, including information about how to obtain feedback on a draft of your abstract is available from the ASU Writing Center.
A guide to creating and presenting an attractive and informative research poster is available at Creating an Effective Poster.